This article explains how a content strategy will ultimately save you time and money when creating content.
Why do I need a content strategy?
A content strategy is the engine behind all your content marketing activities, and it shapes how your content will influence your target client's experience with your brand. It is the strategic thinking behind how you will use content (written, visual or audio) to achieve your business goals.
It is an "always-on" marketing strategy that drives all three phases of customer acquisition, conversion, and retention.
"A content strategy is not an editorial calendar."
In the age of sustainability, don't you want something in your business that does good for your brand, and the benefits accumulate over time? The key to making content a sustainable part of your marketing strategy is to have a plan.
| | |
| --- | --- |
| BEFORE: Without a Content Strategy | AFTER: With a Content Strategy |
| You randomly publish content when you have time and you're not really sure if it is relevant or not. | You only publish content that is aligned with your company's goals (e.g. brand awareness, attract, convert or retain clients) |
| Messaging is sales focused and includes content that explains how great your company is. | Messaging is client focused and clearly addresses reader pain points. |
| Content seems to be random. | There are clear content clusters or core themes so that messages are consistent. |
| Readers are left without next steps. | Readers are always "nudged" to take the next steps with calls to action and offers. |
| Keywords are added randomly, if at all. | There is a keyword strategy in place to help boost Google rankings and brand visibility. |
| The performance of content is not tracked. | There are metrics in place to measure what is working and what is not. |
What is the difference between content strategy and content marketing?
It is worth clarifying the difference between a content strategy and content marketing.
A content strategy is one step before a content marketing plan, and without it, your content will take longer to create and the results will be unpredictable.
Content marketing is undertaken once the content strategy thinking is completed. It is the execution part of your strategy and involves the writing, editing, publishing, and promoting of the right content, for the right person, at the right time.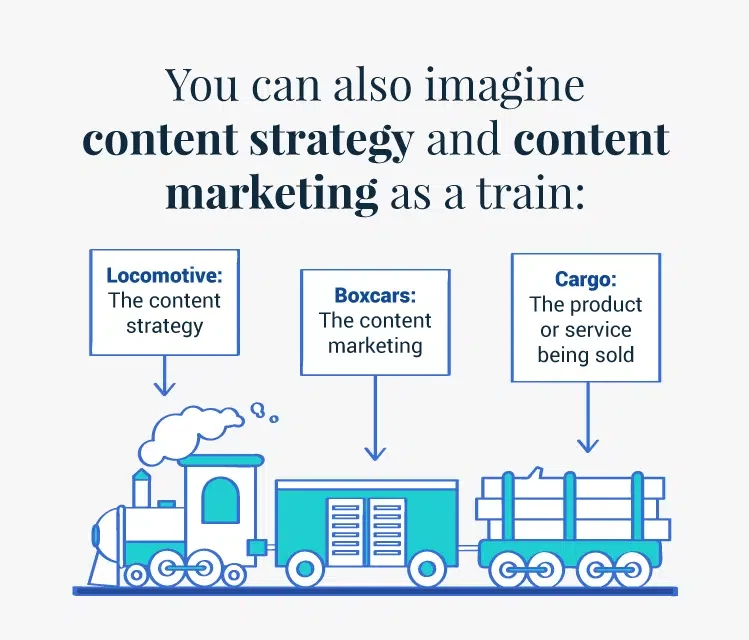 What are the benefits of a content strategy?
1) Cheaper than ads
It does take time and effort to develop an initial content strategy and stay committed to a consistent creation and promotion schedule. However, it is still cheaper in the long run compared to pay-per-click ads.
Paid advertising like Facebook Ads and Google Ads do have their place in driving traffic to your site and increasing your brand's visibility, however, the issue is that when your monthly budget is exhausted, your traffic stops immediately.
2) Makes the process easier and faster
A content strategy will make your whole content production process easier and faster. It will stop you from winging your content, diluting your brand, and confusing your clients.
In the words of Robert Rose, author of Killing Marketing, it's not about creating more content.
"It's about creating the minimum amount of content that will get maximum results".
3) It builds trust
The goal of high-quality content is to earn a client's attention so they start to trust you. This is particularly important in the services sector, where firms sell invisible products. It is also valuable in keeping clients engaged post-purchase and increases the chance they will buy again.
Firms can use content to support clients throughout their customer journey and address all their information needs. That's why it is useful to drill down into what your clients are searching for and how you can give them what they want.
According to Google:
"We turn to our phones with intent and expect brands to deliver immediate answers".
Research* into user intent shows that more than 80% of search queries online are informational (answer a question). This means that people spend a lot of time online searching for information to solve their problems. Only 10% are navigational (go directly to a particular website) and 10% transactional (e.g. buy a product).
This means that at least 80% of a brand's online content should address all of the "I-want-to-know, I-want-to-go, I-want-to-do, I-want-to-buy" moments.
What should a content strategy include?
Critical components of a strategy should include:
what you want to achieve (e.g. grow your email list),
how and when you will do it (e.g. weekly blog content promoted on Instagram and distributed via email),
who you will serve (e.g. women who need help with XYZ)
how you will measure success (e.g. growth in your email subscriber list).
SEO software company AHREFs summarizes the key aspects of a content strategy in the content strategy canvas below.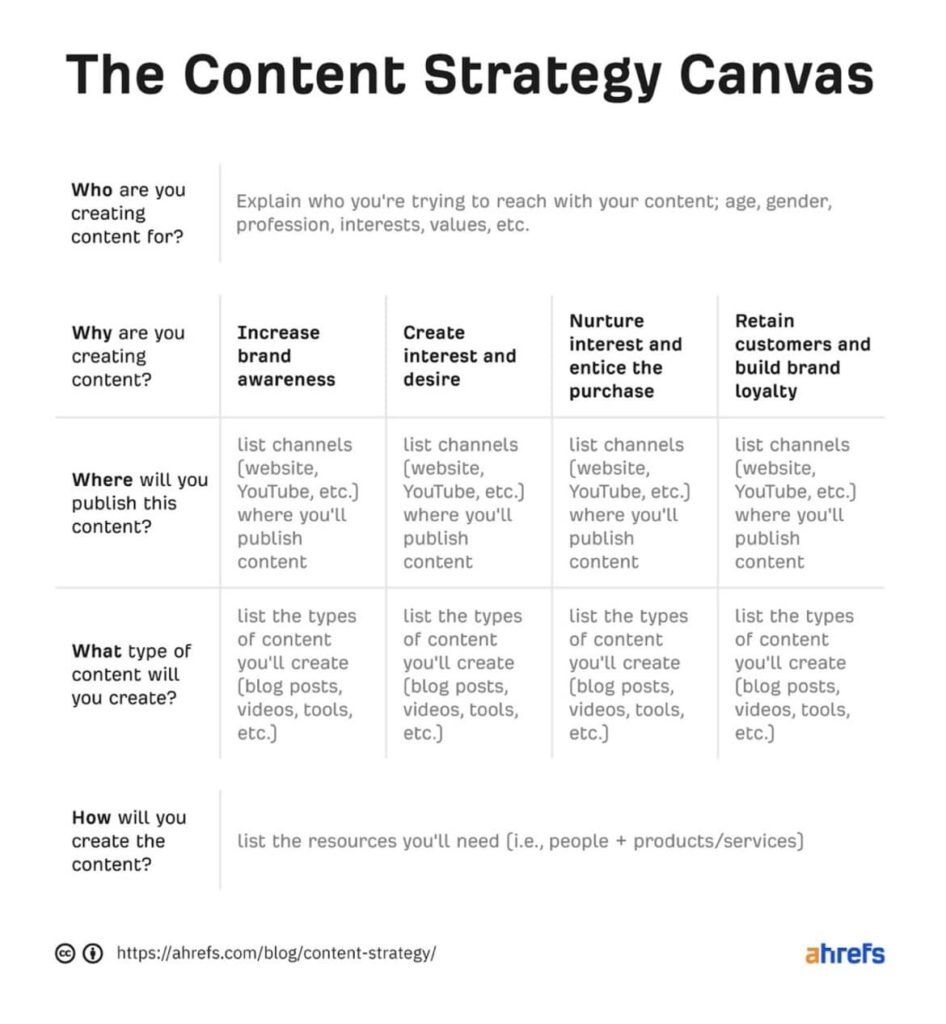 Here is a sample one-page content strategy for a health coach.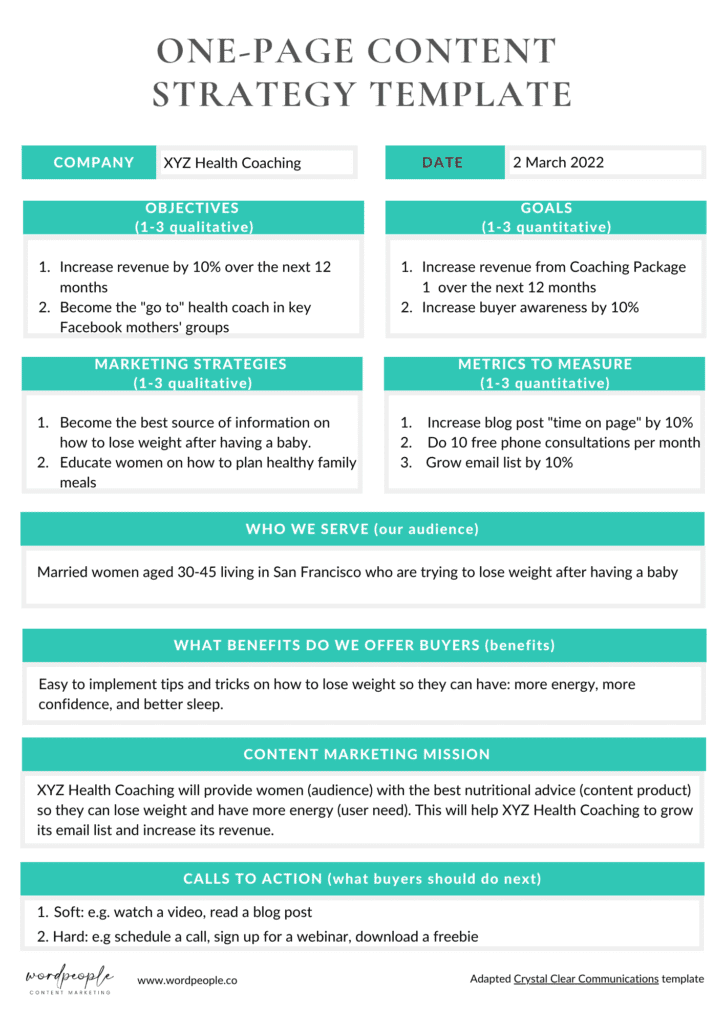 More detailed information about completing the content strategy template is available
here
.
Summary
Taking the time to create a content strategy can boost your website traffic, conversion rate and organic rankings. Read this article on how to create a content strategy.
You might also be interested in:
If you're ready to jumpstart your website's blog with regular high-quality content, see my SEO-optimized blog packages or set up a quick consultation.
*Jansen, Jim & Booth, Danielle & Spink, Amanda. (2008). Determining the Informational, Navigational, and Transactional Intent of Web Queries. Information Processing & Management. 44. 1251-1266. 10.1016/j.ipm.2007.07.015. Available at:
https://www.researchgate.net/publication/222824696_Determining_the_Informational_Navigational_and_Transactional_Intent_of_Web_Queries